Openshot
Openshot is a simple video editor for Linux. Add videos, photos and music to create DVD's, youtube clips and a range of other formats.
Simple and clean UI
Intuitive use
Format support based on ffmpeg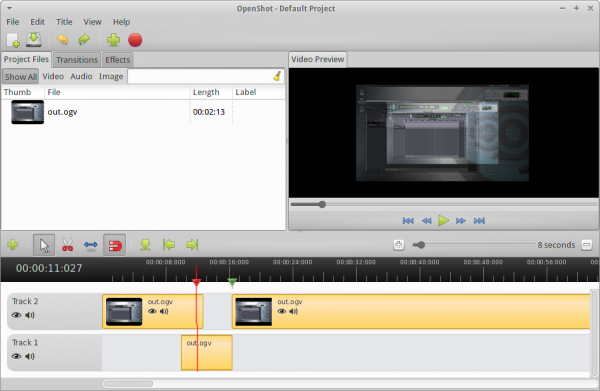 FFMPEG
"FFmpeg is the leading multimedia framework, able to decode, encode, transcode, mux, demux, stream, filter and play pretty much anything that humans and machines have created. It supports the most obscure ancient formats up to the cutting edge. No matter if they were designed by some standards committee, the community or a corporation. It contains libavcodec, libavutil, libavformat, libavdevice, libswscale and libswresample which can be used by applications. As well as ffmpeg, ffserver, ffplay and ffprobe which can be used by end users for transcoding, streaming and playing."
DVDStyler
Use DVDStyler to create custom, professional looking DVD's.
User-friendly interface with support of drag & drop
Multiple subtitles and audio tracks
Design your own DVD menu or select a template
Create a photo slide show
support of AVI, MOV, MP4, MPEG, OGG, WMV and other file formats
support of MPEG-2, MPEG-4, DivX, Xvid, MP2, MP3, AC-3 and other audio and video formats