Recording, mixing, mastering, live processing, or even coding
Whether your aim is recording, mixing, mastering, live processing, or even coding, there is a variety of tools for you. With a full suite of audio applications Ubuntu Studio can support you with these tasks and many more.
Ubuntu Studio makes available some of the most popular and recently updated audio software in the Linux world.
JACK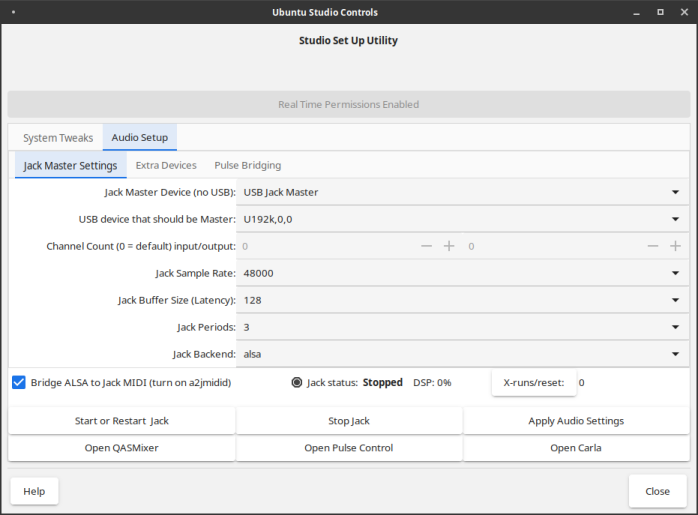 Jack is a low latency capable audio and midi server, designed for pro audio use. It enables all Jack capable applications to connect to each other. The preferred method of controlling Jack with Ubuntu Studio is our very own Ubuntu Studio Controls (pictured):
provides low latency (less than 5 milliseconds with the right hardware)
allows multiple audo devices to be used at once
recognizes hotplugged USB audio devices
Ardour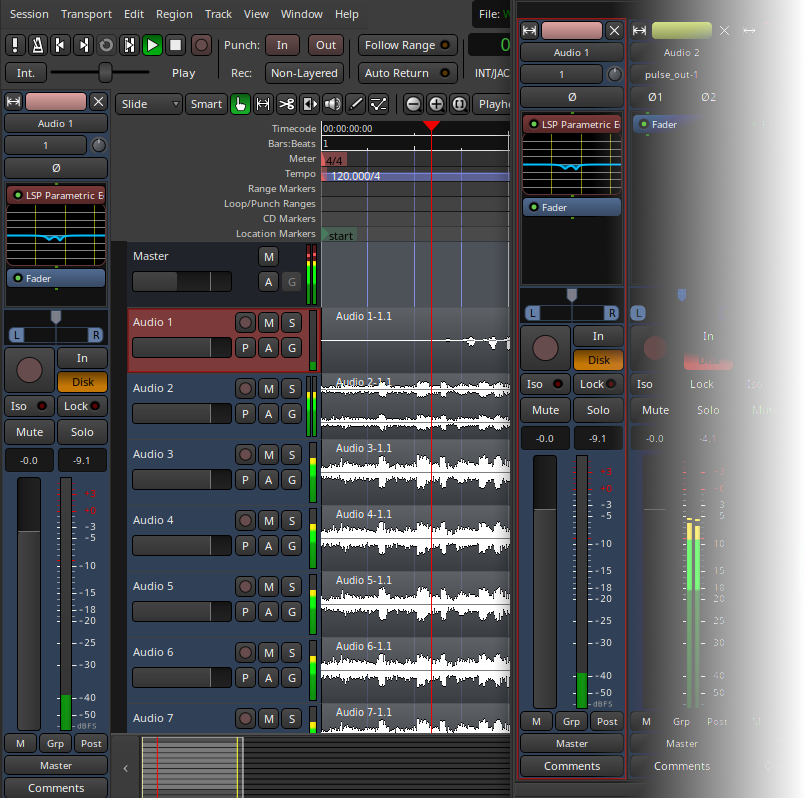 Ardour is a Digital Audio Workstation (DAW), suitable for recording, mixing and mastering. Some of its features include:
Unlimited audio tracks and buses
Non-destructive, non-linear editing with unlimited undo
Anything-to-anywhere signal routing
Unlimited pre- and post-fader plugins
32 bit floating point audio path
Automatic track delay compensation
Sample accurate automation
Standard file formats (BWF, WAV, WAV64, AIFF, CAF & more …)
More than 200 LADSPA & LV2 plugins freely available
MIDI CC control with 1 click
Level 2 MIDI Machine Control
MIDI Timecode (MTC) Master or Slave
Full integration with all JACK applications
Video-synced playback, pull up/pull down
Carla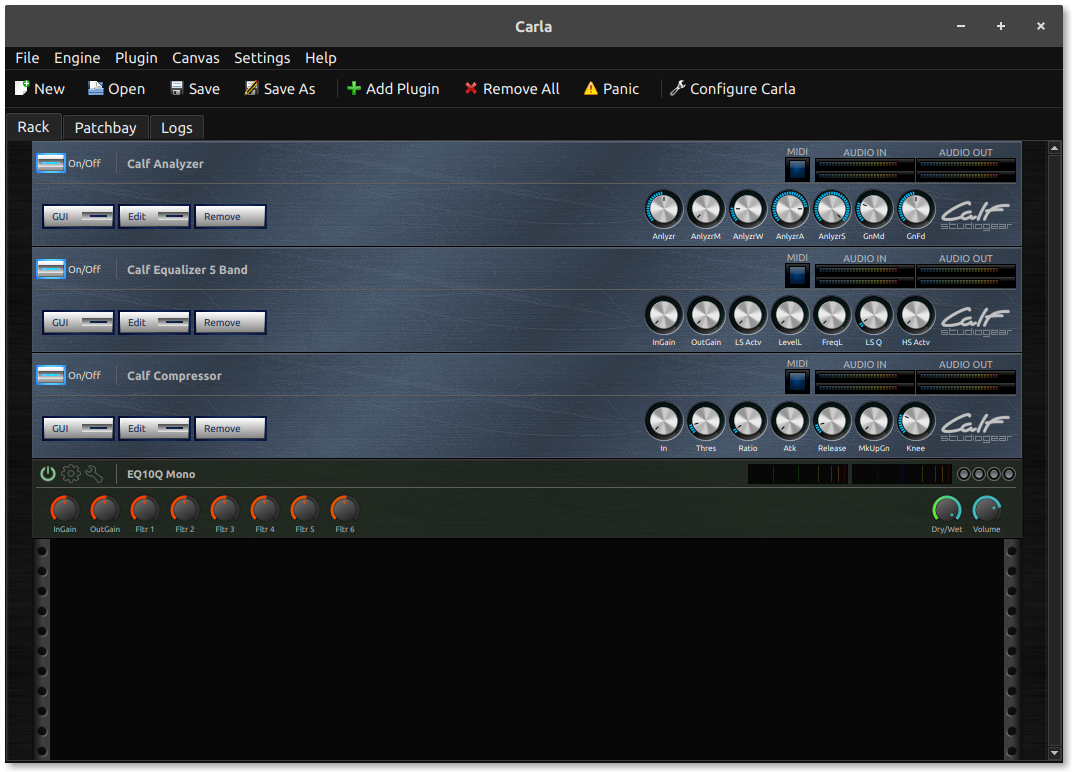 Carla is a virtual Audio Rack and Patchbay, otherwise known as a plugin host, that can use audio plugins normally used in a DAW such as Ardour as if it was a rack of audio hardware. Some of its features include:
Saving virtual racks and connections
Interacting with several plugins types, including LADSPA, LV2, DSSI, and VST.
Has a plugin bridge that utilizes WINE to use plugins compiled for Windows devices (experimental, not installed by default).
Sequencers and Synthesizers
Ubuntu Studio comes installed with other notable applications such as:
Audacity – Audio Wave Editor
Qtractor – midi capable DAW
Hydrogen – Drum machine / Sequencer
Yoshimi – Software Synthesizer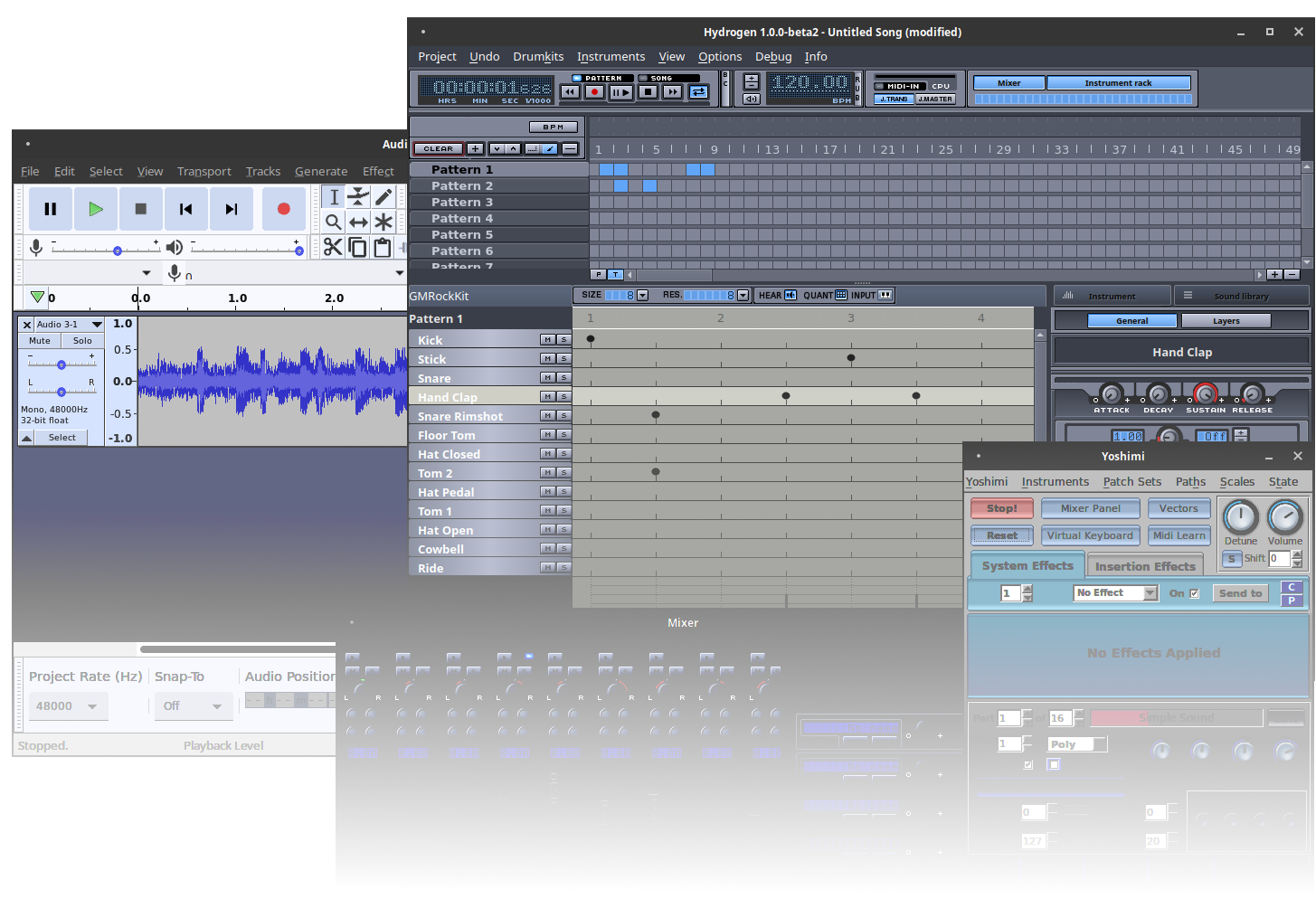 Virtual Guitar Amps
Rakarrack (preinstalled) and Guitarix are two popular guitar amp simulators.

Audio Programming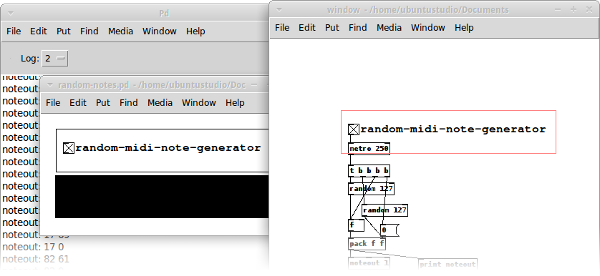 There are numerous easy to use audio programming environments available to Ubuntu Studio, such as the preinstalled puredata. Others are installable, such as supercollider, csound and chuck.