NOTE: Due to a packaging requirement in Ubuntu Desktop, ubuntustudio-pulseaudio-config is incompatible and cannot be installed. Users of Ubuntu Desktop (also known as Ubuntu GNOME or Ubuntu "vanilla") must use ubuntustudio-pipewire-config.
NOTE: As of Ubuntu Studio 23.10, this page may or may not apply as PipeWire has become much more robust. However, this page does exist for historical and contextual purposes.
In Ubuntu Studio 23.04, Ubuntu Studio comes with PipeWire and JACK integration setup by default. For most people, this means audio will just work for JACK and traditional Pulseaudio applications equally.
However, we do caution: for professional and prosumer audio, PipeWire is simply not ready, even with this setup. Per friend of the project Robin "X42" Gareus on this Debian bug report:
Hello fellow Debian users,

I wish I had better news for you but at this point in time PipeWire is 
not a replacement for JACK when it comes to pro-audio. Neither in terms 
of reliability, performance or features. It is certainly not something 
to use in a studio with paying customers, or live on stage.

There are still regular issues [1] coming up, configuration is still not 
easily accessible [2], freewheeling does not always work, and 
performance when using many clients is not yet equal to how JACK handles 
context-switches.

JACK is mature and reliable, musicians can trust it live on stage, 
pipewire is still under heavy development and sadly not yet ready for 
prime-time.

On the upside JACK and pipewire can co-exist. When jackd requests a 
device via d-bus, pipewire does (or should) release it.

At this point it is even unclear if JACK will be ever be discontinued. A 
recent discussion at [3] investigates the possibility to run pipewire on 
top of JACK, but that is a different story.

--
robin

PS. I have been involved with development of both JACK, design of 
PipeWire and am developing pro-audio software such as Ardour (I am also 
a Debian user since Potato).

[1] https://discourse.ardour.org/t/ardour-inputs-with-pipewire/108489
[2] 
https://discourse.ardour.org/t/how-does-pipewire-perform-with-ardour/107381/12
[3] 
https://lists.linuxaudio.org/hyperkitty/list/linux-audio-dev@lists.linuxaudio.org/thread/I3BSVFO6DU7S2L7ATA7WOSDS7BTS4BPH/
With this in mind, we have developed a way to switch between two different setups of Ubuntu Studio via two metapackages: ubuntustudio-pipewire-config and ubuntustudio-pulseaudio-config. The two packages cannot be installed at the same time and install/uninstall the necessary packages.
To make this entire process easy, we have integrated this into the completely rewritten Ubuntu Studio Installer. This part applies only to Ubuntu Studio Installer in 23.04. For Ubuntu Studio 23.10 and later, run Ubuntu Studio Audio Configuration.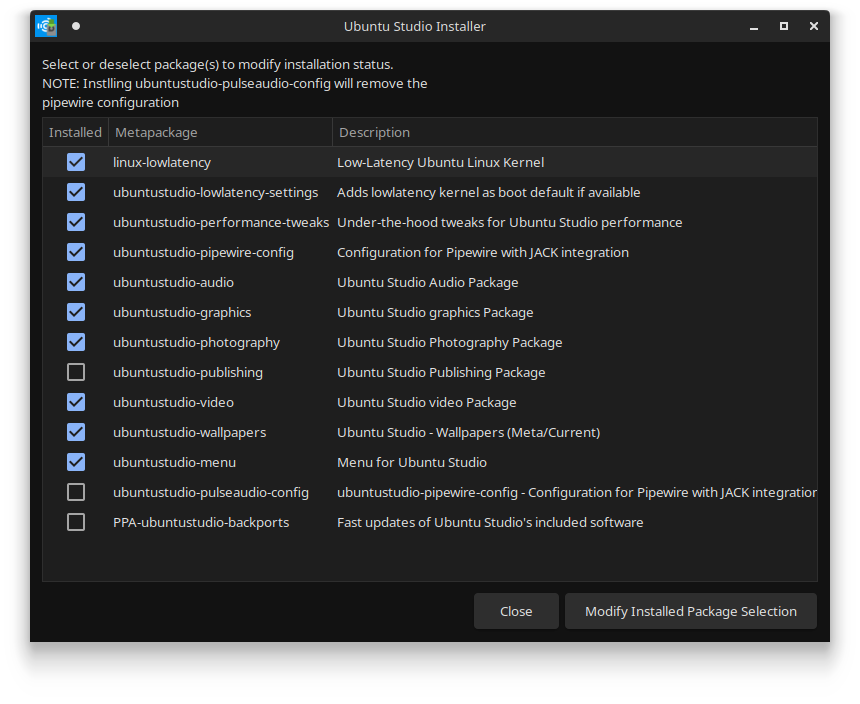 Simply check the checkbox next to ubuntustudio-pulseaudio-config and it will reconfigure your system to run in the traditional pulseaudio configuration, install studio-controls, and have your system configured the way Ubuntu Studio has been configured for audio in the past.
If you wish to go back to pipewire, the reverse is true. Simply check the checkbox next to ubuntustudio-pipewire-config and it will reconfigure your system to run in the new pipewire configuration.
To find the new Ubuntu Studio Installer, look no further than the Ubuntu Studio Information menu.